Amazing Grace Food Pantry served over 200 families so far in June with nutritious food along with watermelons and apples. Produce was in abundance this week along with regular items to make a variety of meals. Many come every week, some less often. We welcomed approx. 10 new families so far this month. With the kids out of school and cooling costs rising, we hope to help ease the grocery expenses for more families this summer.
If you'd like to learn more about how to help your neighbors, call (972) 292-7241 for a tour!
Thank you LOWES in Murphy for the May Food Drive!
We were running low on canned veggies and juice, you helped fill the need this week!
New Building Update: Building project is coming along. Framing is done! Electrical 90% done. Concrete pad outside the receiving door needs to be poured soon. Still searching for donation or cost price on 20yards of concrete. If you know of a reputable concrete company that can supply $80 yard, please send them our way!
Latest Need: One of our freezers needs the compressor replaced. Someone will donate labor, but cost is $850 for the part. If you'd like to help with this need, please visit our donation page.
I first learned about Amazing Grace Food Pantry through our church web site and have been volunteering at AGFP since early 2018. I started volunteering as a way to give back to our local communities. Friends have helped me in various ways over the years and it feels good to finally be able to give back in a tangible way.

Within a few months of volunteering, I quickly realized that this is much more than just providing food and nutrition to people in need. AGFP is an organization of multiple families. The clients on Tuesdays, Thursdays, and Saturdays connect, bond, support, and learn from each other. The same is true for the volunteers helping each day. We connect as a team, work together for an incredible cause, and learn from amazing people – clients and volunteers alike. We are all there to support each other through life's many challenges and successes.

It is great to be a part of the team!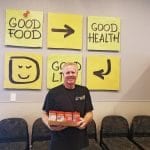 Take the time to read some of the testimonials from clients and volunteers on our website. Volunteer or donate this year. It will bless you!
Please share this and our other posts on your Facebook timeline, tweet it out on Twitter or forward via email. Many people looking to help or looking for help don't even know that ours and other pantries exist. Let others know there's help for them out there!
More ways YOU can help in the Fight Against Hunger in North Texas
Visit our Volunteer Page to find out how you can get involved directly to make a difference.
Consider arranging a recurring monthly donation by visiting our Donation Page… no amount is too small.
Shop using Amazon Smile – select Amazing Grace Fellowship Wylie as your charity of choice. Amazon will send the pantry 1/2 of a percent of total sales each year.
Use your Kroger Community Rewards Card. Enter our number 92895 to have a portion of your total purchase benefit Amazing Grace Food Pantry.
Visit the Target Gift Registry to review a list of needed items such as canned beans, canned veggies, soups and hygiene products.
Spread the word about us to your friends, family and coworkers! Ask your favorite businesses if they support Amazing Grace Food Pantry.
The volunteers at Amazing Grace Food Pantry and the growing number of clients thank you for your help in fighting hunger in Collin County and North Texas. If you have any questions, comments or would like to know more, feel free to use our Contact Page or call us at (972) 292-7241