Amazing Grace Food Pantry closed 2017 books showing 32% more people served than in 2016 and a lot more food distributed. Between North Texas Food Bank and your donations, over 592,000 pounds of nutritional food was distributed to families in need in Collin County and surrounding areas. Over 13,000 boxes of food were carried to families cars this year.
Thank you to the many individuals and organizations that had a part, either with volunteering, dropping off food or regular financial support – YOU made the difference in 3,271 people's lives this year!
New Building Update: What a year 2017 has been! December 2016 we were thrilled to have the slab poured for the new building. This December, and throughout 2017, volunteer teams rocked it! Interior walls are painted, FRP 90% done, walk-in cooler is nearly assembled and plumbing is near complete… we finally have a working restroom!
Thank you volunteers for your dedication and hard work putting this building together. It won't be long before we're able to serve clients from this spacious and safer facility. Stay tuned for more updates and announcements.
Want to help? GREAT! Your continued financial support makes this pantry possible. Visit our donate page to arrange a recurring monthly donation or to give a one-time gift.
January is National Soup Month

Hunger doesn't stop at Christmas. January is a rough month for those struggling to make ends meet with the higher heating bills. Drop off canned soup any Tuesday, Friday or Saturday 9am-11am to warm hearts and Fight Hunger Together!
Our family wishes to extend our greatest thanks and appreciation for the effort made to serve the community with a food pantry.
Over the years, we have benefited greatly with your help in providing food for us. With our limited resources it was very difficult for us until we discovered the help you were giving to the community and only God knows the amount of personal time and spirit you have put into this.
Again, we thank you for all the help and hope that God will bless you and your families as you continue to serve with the smiling faces that greet everyone walking in your door.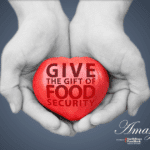 Take the time to read some of the testimonials from clients and volunteers on our website. Volunteer or donate this year. It will bless you!
Please share this and our other posts on your Facebook timeline, tweet it out on Twitter or forward via email. Many people looking to help or looking for help don't even know that ours and other pantries exist. Let others know there's help for them out there!
More ways YOU can help in the Fight Against Hunger in North Texas
Visit our Volunteer Page to find out how you can get involved directly to make a difference.
Consider arranging a recurring monthly donation by visiting our Donation Page… no amount is too small.
Shop using Amazon Smile – select Amazing Grace Food Pantry as your charity of choice. If you have already, please update your selection.
Use your Kroger Community Rewards Card. Enter our number 92895 to have a portion of your total purchase benefit Amazing Grace Food Pantry.
Visit the Target Gift Registry to review a list of needed items such as canned beans, canned veggies, soups and hygiene products.
Spread the word about us to your friends, family and coworkers! Ask your favorite businesses if they support Amazing Grace Food Pantry.