The Christmas Season has officially started at Amazing Grace Food Pantry! Winter temperatures are here – we welcomed the Christmas Season by distributing Christmas turkeys and sides along with regular grocery cart full of food to 140 families this week. Lots of tomatoes, pears and melons were among the fresh produce available.
Special thanks to these that donated this week
YOU have made a difference in the homes of so many in Collin County by your act of kindness!
A nearby neighbor and our fellow pantry, Good Samaritan, for donating plenty of eggs to distribute to each family – a real treat!
Other neighbors dropped of several donations to help with the Christmas dinner distribution.
Gateway Church who donate a selected special item each month, this month sugar!
LDS Church held a food drive last week and brought in 240 pounds of needed canned goods.
Wylie High School National Honor Society donated hundreds of pounds of canned goods and cash towards stocking shelves.
Items such as sugar, oil, laundry soap, dish soap and toilet paper are the non-food items that are rarely donated are special treats and are welcomed donations throughout the year.
Looking for a Team Project?
Organize a monthly or quarterly donation cycle with your family, friends, church group, Bunco group or classmates. Select one item to gather and donate to Amazing Grace Food Pantry.  Take Action in the Fight Against Hunger in your neighborhood.
New Building Update: Drywall is done – whew! A local builder is doing the wall texture this week. Thank you volunteers for all the hard work getting us this far. We're getting soooo close!!
Call to Action!
The week of Dec 18-23 –  volunteers needed to help paint inside. Bring your paint roller and join the paint party! Call (972) 292-7241 to get days and times.
Volunteering at Amazing Grace Food Pantry has been very gratifying to me. In fact, I often gain more than I give, by allowing me to contribute to a worthwhile cause, I help people in need.

It has also given me the opportunity to communicate and build bonds with others while also working on my self-confidence. Amazing Grace has taught me the value of orderliness and hard work. I see so much food being distributed and yet they still manage to pull it all together and get the job done. It has been a pleasure volunteering at Amazing Grace Food Pantry, I appreciate the opportunity to serve.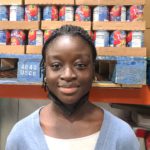 Take the time to read some of the testimonials from clients and volunteers on our website. Volunteer or donate this year. It will bless you!
Please share this and our other posts on your Facebook timeline, tweet it out on Twitter or forward via email. Many people looking to help or looking for help don't even know that ours and other pantries exist. Let others know there's help for them out there!
More ways YOU can help in the Fight Against Hunger in North Texas
Visit our Volunteer Page to find out how you can get involved directly to make a difference.
Consider arranging a recurring monthly donation by visiting our Donation Page… no amount is too small.
Shop using Amazon Smile – select Amazing Grace Food Pantry as your charity of choice. If you have already, please update your selection.
Use your Kroger Community Rewards Card. Enter our number 92895 to have a portion of your total purchase benefit Amazing Grace Food Pantry.
Visit the Target Gift Registry to review a list of needed items such as canned beans, canned veggies, soups and hygiene products.
Spread the word about us to your friends, family and coworkers! Ask your favorite businesses if they support Amazing Grace Food Pantry.
The volunteers at Amazing Grace Food Pantry and the growing number of clients thank you for your help in fighting hunger in Collin County and North Texas. If you have any questions, comments or would like to know more, feel free to use our Contact Page or call us at (972) 292-7241.