Thank you Zach, Cherie and NEW HOPE CHRISTIAN CHURCH for your donation today to Amazing Grace Food Pantry! The much needed dry goods, diapers and wipes will help lots of families in need this week! Thank you for teaming with us to #FightHunger Together during these uncertain times!
Also, a special THANK YOU to Dowdey, Anderson & Associates for volunteering. We hope to see you again soon!
Are you, your organization or company looking for ways to serve the community?
Check out our website for ways to:
select Amazing Grace Food Pantry as your charity of choice at Kroger, Tom Thumb, Amazon or donation on line.
Volunteer this summer! Weekly or monthly slots are available
Organize a food drive
Are you a social media or marketing expert? Let's talk!
My adult son Judah and I started to volunteer at Amazing Grace food pantry about 7 months ago. We were looking for something to get us out of the house, having been a stay at home mom for many years.

We wanted to try it for 1 day a week to start with, just to "see" how it was there. Once we started there we discovered the awesome staff and other volunteers that made us feel so very welcome. It wasn't too long before we decided to give more than 1 day.

We really enjoy the family atmosphere and the fact that everyone working there comes from all different walks of life. It's very refreshing to me and it's bringing a much richer dimension to our lives that we are so thankful for to this day. Besides this there comes the joy of helping people feed their families. Unless you work there you have no idea how much food passes through the doors each week nor how many people are helped.

We also love to see all the different ages come to volunteer, from family's with young children to senior citizen's. Everyone can have place to fill at Amazing Grace! My only regret is that we did not find Amazing Grace sooner!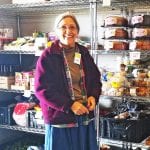 Take the time to read some of the testimonials from clients and volunteers on our website. Volunteer or donate this year. It will bless you!
Please share this and our other posts on your Facebook timeline, tweet it out on Twitter or forward via email. Many people looking to help or looking for help don't even know that ours and other pantries exist. Let others know there's help for them out there!
More ways YOU can help in the Fight Against Hunger in North Texas
Visit our Volunteer Page to find out how you can get involved directly to make a difference.
Consider arranging a recurring monthly donation by visiting our Donation Page… no amount is too small.
Shop using Amazon Smile – select Amazing Grace Food Pantry as your charity of choice. You can also purchase items from our Amazon Charity List and have them sent directly to us.
Use your Kroger Community Rewards Card. Enter our number 92895 to have a portion of your total purchase benefit Amazing Grace Food Pantry.
Visit the Target Gift Registry to review a list of needed items such as canned beans, canned veggies, soups and hygiene products.
Spread the word about us to your friends, family and coworkers! Ask your favorite businesses if they support Amazing Grace Food Pantry.
The volunteers at Amazing Grace Food Pantry and the growing number of clients thank you for your help in fighting hunger in Collin County and North Texas. If you have any questions, comments or would like to know more, feel free to use our Contact Page or call us at (972) 292-7241.