Yes, we're all in this together. We're in the same storm, but not in the same boat.
Amazing Grace Food Pantry has had the privilege to provide food to families in need since 2006. The number of families served grows each year but with the coronavirus pandemic and many out of work or working with reduced hours, we've seen a spike that surprised all of us. Grocery stores have trouble keeping shelves stocked. Thus, have far less to donate to pantries. As an Agency Partner with the North Texas Food Bank, we're able to keep our shelves stocked. We're keeping regular hours to serve the community who need us more than ever.
Build Hope by helping others that are in a tough patch in life. Visit our Volunteer page to find out how you can get involved directly, or visit our Donate page to support the Fight Against Hunger in North Texas. Our imagination is our reality. Children are more likely to face food insecurity than any other group. Help them imagine their future without hunger.
You're at home shopping on Amazon more often now. Do you use AmazonSmile? If not, start today! Register Amazing Grace Food Pantry as your charity of choice. Amazon contributes ½ cent for every $1 spent to designated charities. We'd love your help to increase this funding!
Thank YOU SO Much for allowing a few of my F.C.C.L.A. (Family, Career and Community Leaders of America) chapter members come help at your food pantry. I cannot wait to come back and serve at the Amazing Grace Food Pantry!

We hope to gather another team soon to come and help you guys very soon! It so awesome to work with your organization.  Thank YOU for allowing my students and I that opportunity!

Enjoy your weekend and Happy Thanksgiving!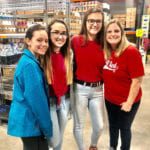 Take the time to read some of the testimonials from clients and volunteers on our website. Volunteer or donate this year. It will bless you!
Please share this and our other posts on your Facebook timeline, tweet it out on Twitter or forward via email. Many people looking to help or looking for help don't even know that ours and other pantries exist. Let others know there's help for them out there!
More ways YOU can help in the Fight Against Hunger in North Texas
Visit our Volunteer Page to find out how you can get involved directly to make a difference.
Consider arranging a recurring monthly donation by visiting our Donation Page… no amount is too small.
Shop using Amazon Smile – select Amazing Grace Food Pantry as your charity of choice. You can also purchase items from our Amazon Charity List and have them sent directly to us.
Use your Kroger Community Rewards Card. Enter our number 92895 to have a portion of your total purchase benefit Amazing Grace Food Pantry.
Visit the Target Gift Registry to review a list of needed items such as canned beans, canned veggies, soups and hygiene products.
Spread the word about us to your friends, family and coworkers! Ask your favorite businesses if they support Amazing Grace Food Pantry.
The volunteers at Amazing Grace Food Pantry and the growing number of clients thank you for your help in fighting hunger in Collin County and North Texas. If you have any questions, comments or would like to know more, feel free to use our Contact Page or call us at (972) 292-7241.