Amazing Grace Food Pantry completed its last client service for 2018 on Saturday, December 29th. Volunteers returned Tuesday, January 1st to make sure none of our pantry family goes hungry this new year's week.
Moving into the new, larger building in March has allowed better service to people in need. Our senior citizen count increased from 141 to 342 since they no longer have to wait outside in the weather. We welcome the challenge of a new year and look forward to being a place where more giving hearts can meet that challenge as well… supporting, giving, and serving to make a real difference in people's lives.
Thank you volunteers, donors and our Board for a truly amazing year and thank you for making it possible to distribute tons of food!
$10 = food for a month for a family!
Because of your contributions, over 4600 people received 625,000 meals throughout the year!
Meet Tommi. Tommi recently joined our group of volunteers.
I'm so glad to volunteer here, the volunteers are so nice.  Years ago I was in need and Food Pantries really helped my family survive. Now that we're back on our feet, I want to serve to help those in need. Amazing Grace Food Pantry functions very effectively. The client line isn't as long as other pantries.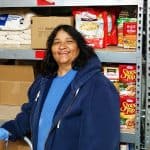 Take the time to read some of the testimonials from clients and volunteers on our website. Volunteer or donate this year. It will bless you!
Please share this and our other posts on your Facebook timeline, tweet it out on Twitter or forward via email. Many people looking to help or looking for help don't even know that ours and other pantries exist. Let others know there's help for them out there!
More ways YOU can help in the Fight Against Hunger in North Texas
Visit our Volunteer Page to find out how you can get involved directly to make a difference.
Consider arranging a recurring monthly donation by visiting our Donation Page… no amount is too small.
Shop using Amazon Smile – select Amazing Grace Food Pantry as your charity of choice. If you have already, please update your selection.
Use your Kroger Community Rewards Card. Enter our number 92895 to have a portion of your total purchase benefit Amazing Grace Food Pantry.
Visit the Target Gift Registry to review a list of needed items such as canned beans, canned veggies, soups and hygiene products.
Spread the word about us to your friends, family and coworkers! Ask your favorite businesses if they support Amazing Grace Food Pantry.
The volunteers at Amazing Grace Food Pantry and the growing number of clients thank you for your help in fighting hunger in Collin County and North Texas. If you have any questions, comments or would like to know more, feel free to use our Contact Page or call us at (972) 292-7241.