Here are some thoughtful responses we have received from clients and volunteers, sharing their unique stories and experiences with Amazing Grace Food Pantry.
Have a story you'd like to share with us? Please use the form in the sidebar or our Contact page to send us your testimonial, or call (972) 292-7241 to leave a voicemail with your message.
Note: We may use your submission for news spotlights and social media posts.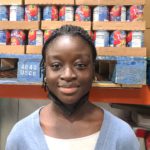 Danelle
Volunteering at Amazing Grace Food Pantry has been very gratifying to me. In fact, I often gain more than I give, by allowing me to contribute to a worthwhile cause, I help people in need.

It has also given me the opportunity to communicate and build bonds with others while also working on my self-confidence. Amazing Grace has taught me the value of orderliness and hard work. I see so much food being distributed and yet they still manage to pull it all together and get the job done. It has been a pleasure volunteering at Amazing Grace Food Pantry, I appreciate the opportunity to serve.
Danelle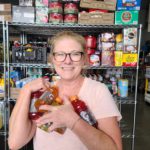 Rebecca
I appreciate being a part of a well-run organization that serves my community with honor and grace.
Rebecca
Sisy
Sissy and her grandson volunteer at Amazing Grace Food Pantry. They love serving the Lord in this pantry ministry where they can meet the needs of the community. The special friendships and bonds that are developed while putting you passion into action is priceless.
Sisy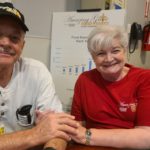 Robert and Tamera
We are fairly new to the Wylie area. When we moved here, we felt strongly that we should give back to this community. We began working at the Amazing Grace Food Pantry, and we have been  working there ever since. The volunteers have become like family and we look forward to our time there.
Robert and Tamera
Guzman Family
Our family loves volunteering at Amazing Grace Pantry. We enjoy helping others in our community with a great team of people. Everyone who works at the pantry is nice & very helpful. It is a fun place to volunteer & there are many different jobs that you can do. It is inspiring to see how many people the pantry feeds in our community. Tonight we made 85 boxes of food and it took a lot of people to make that happen. If you want an exciting place to help feed our community then come volunteer at the Amazing Grace Pantry. You will want to come back again, I am sure. Wylie is blessed to have such a beautiful organization which feeds so many people.
Jorge, Marianne, Mateo, & Jennasey Guzman
Billinda
I enjoy volunteering weekly at Amazing Grace Food Pantry giving back to those in need. The gratification of knowing I was able to help put food on table for others is very rewarding. My only regret is I wish i would have started volunteering earlier on in life. Start volunteering and you to can put turn tears into beautiful smiles.
Billinda
MI
In Dec of 2019, I moved to Lavon to be near family, after living for 40+ years in Houston.  I knew it would be a big change, but I believed that God was prompting me to make the change at that time.  I just didn't know how big the change would be for me – and everyone else.  And then, the pandemic!  5 months of being mostly by myself, with once a week (safe) visits with family, really gave me time for prayer and reflection on God, and "settling in".  And reading and listening to the news.  Listening (or trying to) to God, and listening to the news – and, to be honest, going a bit stir crazy after 5 months convinced me that I needed to do SOMETHING to help others.  And maybe even meet other like-minded people who felt the same way.  People who were living out their faith by serving others.  One of the churches I had been virtually attending was Chase Oaks – a church that believes in actively partnering with organizations in the community to "be here for good".  Amazing Grace is one of the organizations they partner with – and was relatively close to me.  I had contributed food and money to food pantries before, but never worked in one, so I wasn't sure what to expect.  What I found was a well run pantry, with a core group of hard-working people who believe in serving others.  Not only do they feed their bodies, but they believe in feeding their souls – with dignity and hope.  And I found a purpose, and a group of people who became like family!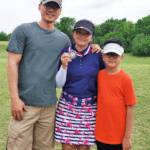 Sean & Abigail
Our Ministry is inside the walls, too. Another heartfelt testimony from a volunteer:
I just wanted to let you know that after working full shift this morning, my daughter, Abigail, went to compete in a junior golf tournament. She placed 3rd and won her first medal! After the award, one of the first things she said was, "I can't wait until I tell the pantry family."

Most of you may not know the story, but Abigail quit playing golf since the divorce almost 4 years ago. She started back on tour just this February. Our goal was to win at least one medal and make it to the invitational final tournament. With today's placing, she has solidified her standing to get invited to the final. Against all the adversity, Abigail has made it through and she is continuing to grow. And being part of the pantry has made such a difference for her. Having a sense of belonging and developing a sense of purpose.

Thank you so much for the care you are showing my children. It may be a small success, but it is such a huge step forward for us.
Abby
I wanted to tell you how impressed and inspired by everyone there. The work could be pretty demanding yet the team there returned week after week to serve those in need. The organization and flow of everything was so smooth. I really appreciated the time of prayer as well. Thanks for giving me the opportunity to be a part. I really enjoyed the work and the people. You all make me think of the song that talks about being the hands and feet of Jesus. Hopefully I'll be able to serve again with y'all when my schedule is not so demanding.

""Then the righteous will answer him, 'Lord, when did we see you hungry and feed you, or thirsty and give you something to drink? When did we see you a stranger and invite you in, or needing clothes and clothe you? When did we see you sick or in prison and go to visit you?' "The King will reply, 'Truly I tell you, whatever you did for one of the least of these brothers and sisters of mine, you did for me.'" ‭‭Matthew‬ ‭25:37-40‬ ‭NIV‬‬
Abby Doyle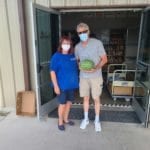 Welcome Rich!
Rich is a new family at Amazing Grace Food Pantry since COVID-19 hit. Job loss and no food – panic was starting to settle in until he found us!
Such a blessing that a place can give a family food for a week. I don't know what would have happened if they weren't there. We were out of everything when I went and all of a sudden we have food to eat, it was such a relief.
Rich