Amazing Grace Food Pantry Volunteers are excited about serving others!
After a long day at work, faithful volunteers come to serve at Amazing Grace Food Pantry on Thursday Night. The pantry expanded their operating hours last year to meet the increasing need of food insecure families in the community. This allows the underemployed and working low income families an evening after work to gather nutritional food for their tables.
Did You Know?
The pantry has a number of projects needing help from our Collin County neighbors. Among these are…
If you, your group or your company can help, let us know! Please call (972) 292-7241 to leave a voicemail message. We also welcome and appreciate donations toward completing these projects. Visit our Donate page to arrange a recurring monthly gift to help us continue to Fight Hunger in North Texas!
The need is real… and growing! Take Action to Fight Hunger Together right here in your neighborhood
Want to help #FightHunger Together? Call ahead to learn what shortage the pantry has or send your financial support to help fund the grocery budget. Your $10 donation will feed a family of 4 for an entire month!
Meet Pamela.
I'm so thankful for Amazing Grace Food Pantry. All the volunteers are friendly and nonjudgmental. I feel comfortable coming here and appreciate the help to feed my family.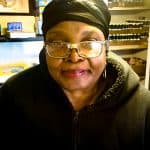 Take the time to read some of the testimonials from clients and volunteers on our website. Volunteer or donate this year. It will bless you!
Please share this and our other posts on your Facebook timeline, tweet it out on Twitter or forward via email. Many people looking to help or looking for help don't even know that ours and other pantries exist. Let others know there's help for them out there!
More ways YOU can help in the Fight Against Hunger in North Texas
Visit our Volunteer Page to find out how you can get involved directly to make a difference.
Consider arranging a recurring monthly donation by visiting our Donation Page… no amount is too small.